Housing Market Cycle and Real Estate Stages
The housing market like most other free markets goes through a recurrent cycle over time. The housing market cycle is divided in 9 predictable stages. Those real estate stages are defined by consumers' sentiments consensus.
The value of this analysis is to be able to have a general idea of where we stand within the housing market cycle and which stage is coming next.
Also there is usually a strong correlation between the 9 consumer Sentiments and housing prices direction & sales volume.

For example the "Euphoria" stage climaxed in 2006 in most real estate markets. 2007 and first part of 2008 were the years of "Denial". The crash in the financial markets in late 2008 put a lot of pressure on the real estate markets as well. Last November and December, the average home prices in Middlesex County experienced a stronger decline. Today we most likely find ourselves in most market in the "Despondency" and "Depression" stages. Hope seems to be a word that the media are starting using again but we might not be there yet.

From a buyer's perspective, the "Despondency" and "Depression" stages represent the strongest buying opportunity with the less risk.
From a seller's perspective, the "Euphoria" stage represents the strongest selling opportunity with the less risk.
The following graph describe the housing cycle and the 9 different stages: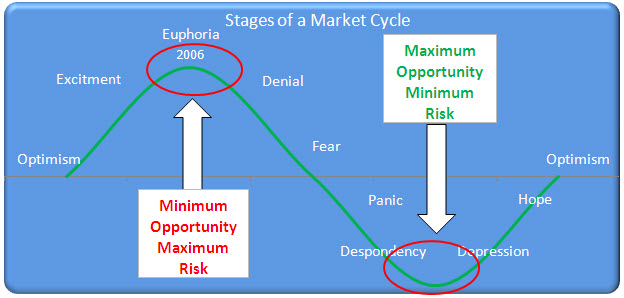 Source: Realtor.org and Westcourts Funds
Which Real Estate stage are we in today?
A cycle doesn't really have a start or a stop. There are no magic indicators either that can point us exactly to the beginning or end of a specific stage.

However business common sense and economic and housing commentaries by respected economists can help us:

The nationwide housing market is now in full recovery mode after suffering greatly during and following the market meltdown, and it's believed that 2013 will be a big year for many markets. AOL Real Estate

Anand Nallathambi, president and CEO of CoreLogic, told CNBC. "We still have a long way to go to return to 2005-2006 levels, but all signals currently point to a progressive stabilization of the housing market and the positive trend in home price appreciation to continue into 2013."

Spencer Rascoff, CEO of Zillow, is calling this the best housing market we've seen in years and believes that nationwide prices will rise through 2013, but he's careful to note that the recovery will not be uniform and remains very market-specific.

U.S. home sales and prices are poised to rise in 2013, solidifying a recovery that began last year after a half-decade slump that was the deepest since the Great Depression, according to analysts and economists surveyed by Bloomberg.
Please read our disclaimer.